By deploying the latest rotec® Blue Light Sleeves from XSYS on its wide web flexo presses, the Spanish fresh produce packaging specialist has been able to reduce downtime and running costs. The next-generation, thin-walled sleeve features a longer-lasting construction that improves efficiencies and productivity in flexo printing production.
Headquartered in Badalona, in Spain, Novotecno S.A. – Grupo Giró is an international innovation leader in packaging systems and products for the fresh fruit and vegetable industry. The company produces tubular nets, labels and films, as well as manufacturing specialised weighing and bagging machinery for the horticultural sector.
The Giró brand is known worldwide for the excellent quality, high reliability and great modularity of its machinery, which allows packers to achieve the best productivity in the market and to respond quickly to new demands from customers.
Working with XSYS regional agent LR Flexo, Novotecno has been relying on rotec® Blue Light plate-mounting sleeves for all flexographic printing at the factory in Badalona for more than 10 years. It was the first converter to upgrade to the new long-lasting construction, thin-walled sleeves, and the improvement has been impressive.
"On average, we were ordering approximately 50 rotec® Blue Light Sleeves of this size each year, because they became damaged so quickly. Since switching to the new construction in July 2019, lifetime has doubled, so that amounts to a substantial saving for us," said Daniel Moreno, Production Manager at Novotecno.
Continuous innovation from XSYS
The long-lasting construction rotec® Blue Light Sleeves is the third generation of this thin-walled, plate carrier technology from XSYS Sleeves. Introduced to the market in 2020, the new sleeve offers improved overall stability compared to the original Blue Light Sleeve from the early 1990s. The development builds on the thin-wall technology of the second-generation sleeve from 2016, but is less likely to crack and more cut resistant. It also has a smoother surface than competitive products.
Available in lengths between 250 and 2600mm, the new thin-walled sleeve is offered in a thickness of 0.9 – 1.7mm. It can be combined with various adapters for plate-mounting off press and offers easy and reliable handling of all flexo plate types.
"With the new construction of the thin Blue Lights, the product is more robust. Soon after we started using them, it became clear that the surface is much more resistant and doesn't crack after a few cuts." commented Daniel Moreno.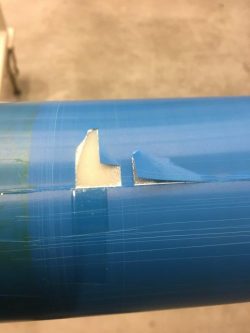 Preferred partner for sleeves
The XSYS rotec® product development team is constantly driving innovation to meet the needs of customers and stay ahead of trends. The evolution of the sleeve technology goes hand in hand with the partnerships that have been created over many years.
"Having represented rotec® Sleeves & Adapters for more than 20 years, I am impressed by how easily the rotec® team understood the situation and proposed a new solution for our common customer," said Lluis Rebled, owner of LR Flexo. "Our partnership with Novotecno is a real success story and it is a clear example of how we work together with customers to help them succeed."
Commenting on why Novotecno chooses XSYS Sleeves as their supplier, Moreno concluded, "The product quality is excellent, and we know we can rely on XSYS if there are any issues. When we had a specific problem, XSYS and the agent LR Flexo took it seriously and solved it for us quickly. This is the relationship and cooperation we expect with our partners, therefore rotec® is our preferred brand for sleeves."